Yamba Rod Run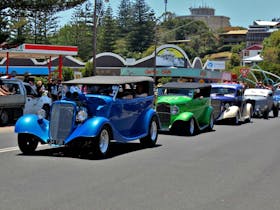 Every year, the small coastal town of Yamba at the mouth of the Clarence River plays host to hot rod enthusiasts from up and down the Australian east coast. Some splendidly restored modern and vintage rods can be seen tootling around Yamba streets, adding an extra layer of colour to the sun and surf.
When: 09/11/2018 - 09/11/2018
Location: Corner Yamba Street and Coldstream Street, Yamba, Clarence Coast, New South Wales, Australia
Location: Yamba Street, Yamba, New South Wales, Australia
Email: falzonsofus@bigpond.com
Phone: (02) 6685 0107
contact
If you have any queires please don't hesitate to contact us. Also follow us on Facebook.
NEWSLETTER
If you would like to be kept aware about promotions & specials, subscribe to our newsletter. We won't spam you.