Mal's Blues Bar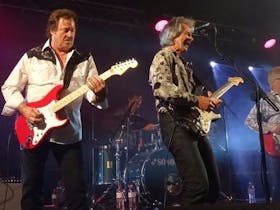 Yamba Golf and Country Club's back deck becomes a 'blues central' on the last Sunday of every month with Australia's premier electric guitarist Mal Eastick and monthly invitational guest performing. Mal has been a long time performer playing with some of the best acts on the Australian music scene Mal. He has performed at high profile events such as Broadbeach Blues Festival, Bimbadgen Blues festival,Thredbo Blues Festival, and as a guest in a premiere guitar show featuring Kevin Borich, Phil Emmanuel, Phil Manning and others. Catch Mal and special guest on the last Sunday of every month at Yamba Golf and Country Club. For details about the guest acts or for more information visit the Club's website or Facebook page. Entry is free and the Club courtesy bus is in operation from 2pm. Seafood Steak and Seafood will be open for lunch and dinner.
When: 26/11/2017 - 26/11/2017
Location: River Street, Yamba, Clarence Coast, New South Wales, Australia
Email: reception@yambagolf.com.au
Phone: (02) 6646 2104
Website: http://yambagolf.com.au/
contact
If you have any queires please don't hesitate to contact us. Also follow us on Facebook.
NEWSLETTER
If you would like to be kept aware about promotions & specials, subscribe to our newsletter. We won't spam you.