Eat Street Yamba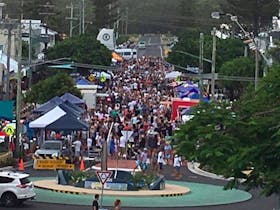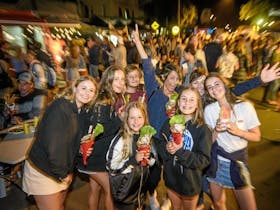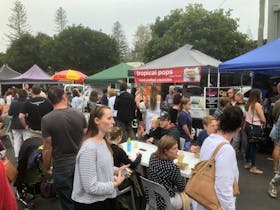 Eat Street Yamba is an afternoon food market being held 4pm to 8pm in Coldstream Street Yamba. There will be plenty of food stalls including Rotary's barbecue, cold foods, nibbles, ice-creams. sweets, pizza , paella and unique gourmet food products available to purchase. Hot and cold drinks including coffee, beer and wine will also be available for your pleasure. Tables and chairs are provided for you to sit and enjoy. The Yamba Eat Street Markets is an annual market event held from 4pm to 8pm. Walk down the middle of Coldstream Street as it is closed to traffic especially for this community event. What a great holiday atmosphere and a great way to spend the long weekend in October during the twilight evening in the beautiful coastal town of Yamba. Celebrate the first day of NSW Daylight Savings as the evening twilight adds atmosphere to the markets. The markets are organised by the Rotary Club of Yamba. For further details or if you are interested in having a stall, please contact the organisers on the phone number or email address provided.
When: 30/09/2018 - 30/09/2018
Location: Coldstream Street, Yamba, Clarence Coast, New South Wales, Australia
Email: gayledoe@gmail.com
Phone: () 0417 002 682
contact
If you have any queires please don't hesitate to contact us. Also follow us on Facebook.
NEWSLETTER
If you would like to be kept aware about promotions & specials, subscribe to our newsletter. We won't spam you.