Yamba Art Space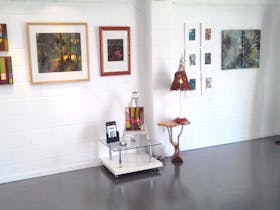 Creative Culture in the Clarence Valley is diverse and rich. At Yamba Art Space they are all about supporting and facilitating ongoing opportunities in creative culture for all ages and abilities. Their gallery hosts bi-monthly exhibitions, their workshop space is designed to accommodate creative and performing arts education, collaborations and events. They also stock a selective range of art materials and original handmade creations by local makers in their gallery shop. Local artist and art educator Kerrie Howland is the owner and coordinator of Yamba Art Space. She is passionate about creating opportunities for artists, art educators and individuals looking to learn and develop new skills. Yamba Art Space will be offering regular classes and workshops for all ages and abilities.
Location: 6 Uki Street, Yamba, Clarence Coast, New South Wales, Australia
Email: info@yambaartspace.com
Phone: () 0488 070 069
Website: www.yambaartspace.com
contact
If you have any queires please don't hesitate to contact us. Also follow us on Facebook.
NEWSLETTER
If you would like to be kept aware about promotions & specials, subscribe to our newsletter. We won't spam you.