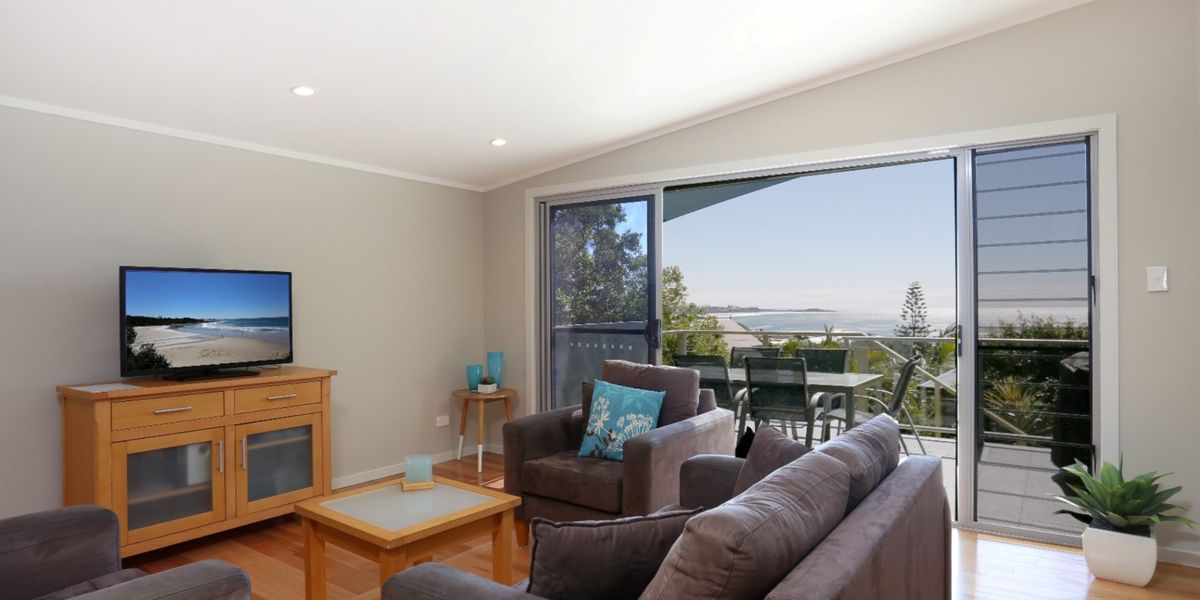 Description
Angourie Blue 1 is the perfect place to escape from the hustle and bustle of everyday life. Featuring water views all the way to Yamba and walking distance to all of Angourie's famous beaches.
The property has a welcoming coastal feel and comes fully equipped with modern appliances, quality furniture, fixtures and fittings.
– Accommodates up to 4 guests
– 2 bedroom, 1 bathroom, 1 car
– Linen supplied (Please bring beach towels)
– Air conditioning upstairs
– Ocean views
– Private rear balcony
– BBQ
– NO PETS (this includes visiting pets)
Bedroom 1: Queen bed
Bedroom 2: 2 x single beds
Walking distance to local beaches and cafes in Angourie. A short drive to Yamba's cafes, shops, pubs, clubs and supermarkets.
Suitable for a romantic getaway, or a small family vacation.
TERMS AND CONDITIONS
Schoolies, bucks or hens groups are not suitable for this property. Strict No Party policy. No pets. Bookings will be cancelled upon breach of these policies. This property is not suitable for persons under 25 years of age without prior approval. Schoolies will not be accepted, please do not ask. Thank you for your understanding.
Amenities
Air Conditioning
Balcony with Outdoor Setting
Bathroom
Bedrooms
Big Screen TV
Child Friendly
Dining Room
Dishwasher
Enclosed Yard
Furniture Outdoor
Garden Area
Gas BBQ
Iron and Board
Kitchen
Laundry
Linen
Lounge
Microwave Oven
Oven
Parking/Carport
Porch/Deck
Refrigerator
Shower
Shower Outdoor
Toaster
Views
Washing Machine
Top Spot by evan78787 - Gold Coast
Everything you need for a great holiday. Clean and well presented - BBQ needs replacing - We would book Again.
Great views - by lisa11112 - Bondi NSW
Well appointed unit great view from deck and nice to have a bbq - Air con great as it is quite a hot unit. Easy walk to the beach. Real Estate great to deal with.
Fantastic spot by lisa11121 - Melbourne
We had a lovely time. The unit is very cosy and well appointed. The air con is a bonus - close to all beaches. Very clean and tidy.
Great Views by jas111122 - Newport
Spotless unit with great views well presented and well appointed.
Best views ever by rach898989 - Moree
LOve this property - Great spot with beaches all around very clean property. We will be back.
Great views by dododod9999 - Castlereagh
This is a must stay if your in Angourie lovely unit clean and tidy with bbq on deck linen and all you need beaches are just a short walk and the water is clean.
Nice Views by jon99999 - Clayfield.
Enjoyed our stay - Nice views close to several beaches.
Great views - by hamish1234 - Maclean.
Just needed a great location for a special event this was just perfect - Unit clean and comfortable. Will book again,. Beach at Angourie the best.
Great location close to all beaches. by jamesq2345 - Coffs Harbour
Very well maintained - easy key pick up with First National - Would love to book again.
Amazing view by biu78878 - Goonellabah
Everything we needed - not to big - not to small. Perfect location for a family of 4. Yes we will be back We love it. Beaches are fantastic clear blue water.
Excellent location by Guest
An excellent accommodation in comfort
Great Clean Property by Al Brooks
Lovely spot we have a great time views are great.
by Josh McCarthy
Angourie is a beautiful town to stay and the house is in a great spot to enjoy the beaches from. Would certainly recommend to others, although quite expensive...
by Gundula Rhoades
Nice and clean, great location.