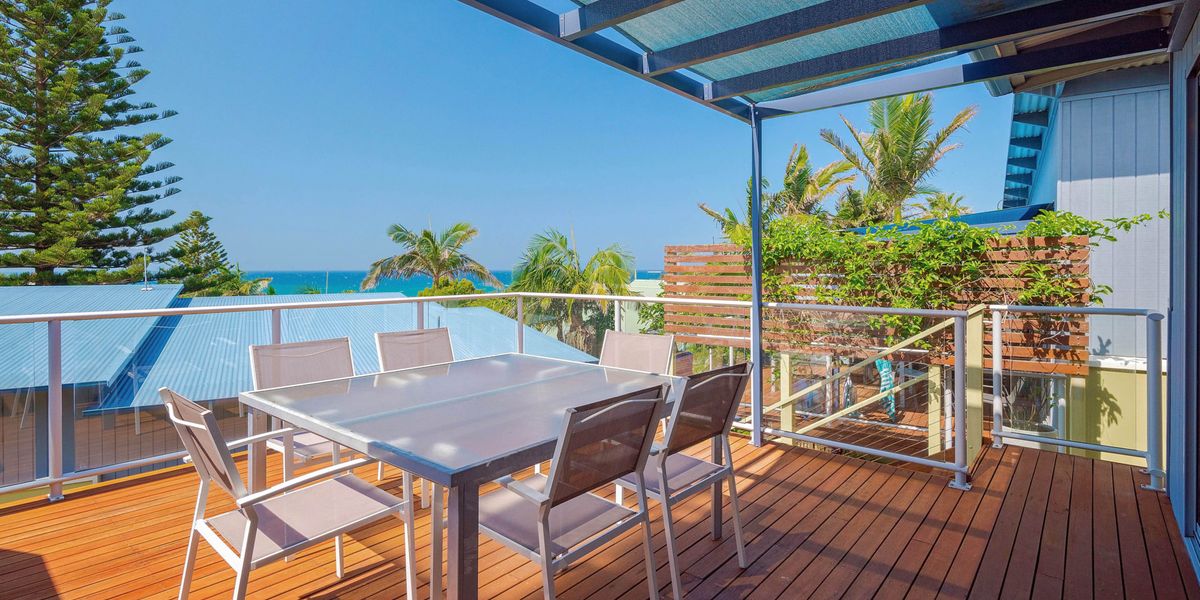 Description
Angourie Blue 4 brings the outdoors indoors. Wooden floors open onto a large entertaining deck capturing an amazing ocean breeze. Featuring water views all the way to Yamba and walking distance to all of Angourie's famous beaches.
The property has a welcoming coastal feel and comes fully equipped with modern appliances, quality furniture, fixtures and fittings.
– Accommodates up to 6 guests.
– 3 Bedrooms, 2 bathroom, 1 car
– Linen (please bring beach towels)
– Airconditioned kitchen and dining room
– Ceiling fans
– Ocean views
– BBQ
– NO PETS (this includes visiting pets)
Bedroom 1: Queen bed
Bedroon 2: 2 x single beds
Bedroom 3: 2 x single beds
Perfect for your next family beach vacation.
TERMS AND CONDITIONS
Schoolies, bucks or hens groups are not suitable for this property. Strict No Party policy. No pets. Bookings will be cancelled upon breach of these policies. This property is not suitable for persons under 25 years of age without prior approval. Schoolies will not be accepted, please do not ask. Thank you for your understanding.
Amenities
Air Conditioning
Bath Tub
Bathroom
Bedrooms
Big Screen TV
Ceiling Fans
Child Friendly
Clothes Dryer
Covered Outdoor Area
Crockery and Cutlery
Dining Room
Dishwasher
Enclosed Yard
Furniture Outdoor
Gas BBQ
Hairdryer
Iron and Board
Kitchen
Laundry
Linen
Lounge
Microwave Oven
Parking/Carport
Refrigerator
Shower Outdoor
Stove
Toaster
Video Player
Views
Washing Machine
Great spot by john9999 - Melbourne North
Love the unit - air con great in this heat. Decor 10 Cleaning 9 - Close to beaches, coffee shops, and nice restaurant licencee. Leave the car and walk everywhere.
Beautiful town. by asas3434 - Camden NSW
Thank you, we have had a great stay in the beautiful town - Decor 8 Cleaning 9 Conditions of rooms 8 We will be back. Staff great to deal with.
Great location by russ898989 - Alderley Brisbane
Decor 10 Cleanlines 10 Condition of rooms 10 Very nice place. Well presented with a tasteful decor. Area is so quiet.
Love the deck and the view by jane898989 - Toowoomba.
Great property - Had a lovely time - Well appointed - Linen good quality. Real Estate easy pick up of keys. Beachies clean.
Great spot with nice views by allen1212 - Fitzroy North
Unit very well appointed with 10 out of 10 for cleaning and furniture. Love the art work. Comfy lounges and air con great.
Nicely appointed unit. by nigel888 - Potts point
Everything you need for a great relaxing holiday all beaches great no matter what the weather doing.
Great Property, Great Position by Mitch - Currumbin, Queensland, Australia
Had a great stay, plenty of room in the unit and great position for all the beaches Angourie has to offer.
VERY HAPPY by Vicki - Arundel
Nice furniture, well appointed, clean, great outlook
Great property by Tom TALBOT
Very peaceful and quiet location close to Yamba for any shopping items. villa very clean and all appliances function properly- No wifi but most private properties don't have and not essential for a getaway
Excellent stay in Angourie Blue 4 by Gill Ross
Positive: Ease of proximity to the pools and the sea. Super, clean house that easily catered for 6 guests. Short drive to the hub, Yamba. Great restaurants abound.
Negative:

Perfect ! by Gaël Morel
The place to be ;-)
Angourie accommodation by Kelii Williams
Absolutely fantastic holiday made even better by the team at first national. What a delight
Staying with Yamba First National by Chris Marley
My family stayed at Angourie Blue and just loved it! We have a four year old and the property was safe and secure. First National made it so easy to pick up the keys and the property was close to the beach; we loved the whole experience!
by FNYamba
Hi Chris, So glad you enjoyed your stay see you next time Regards Shayne
by Gaël Morel
Our holidays were perfect. The house is top : the sea view, the distance from the beaches, very quiet. We'll come back again !
by Kelii Williams
Fantastic place. Sunny and light. Close to cafe and beaches. Beautifully peaceful and everything you need to time away.
by Chris Marley
Comfy beds, great amenities, excellent deck, very clean and welcoming!
by Ray Arthur
We really enjoyed our time...so incredibly lovely to have the deck and the fabulous breezes. Perfectly located - easy to walk to a number of beaches. Very secure and quiet. I know we will be looking to return!