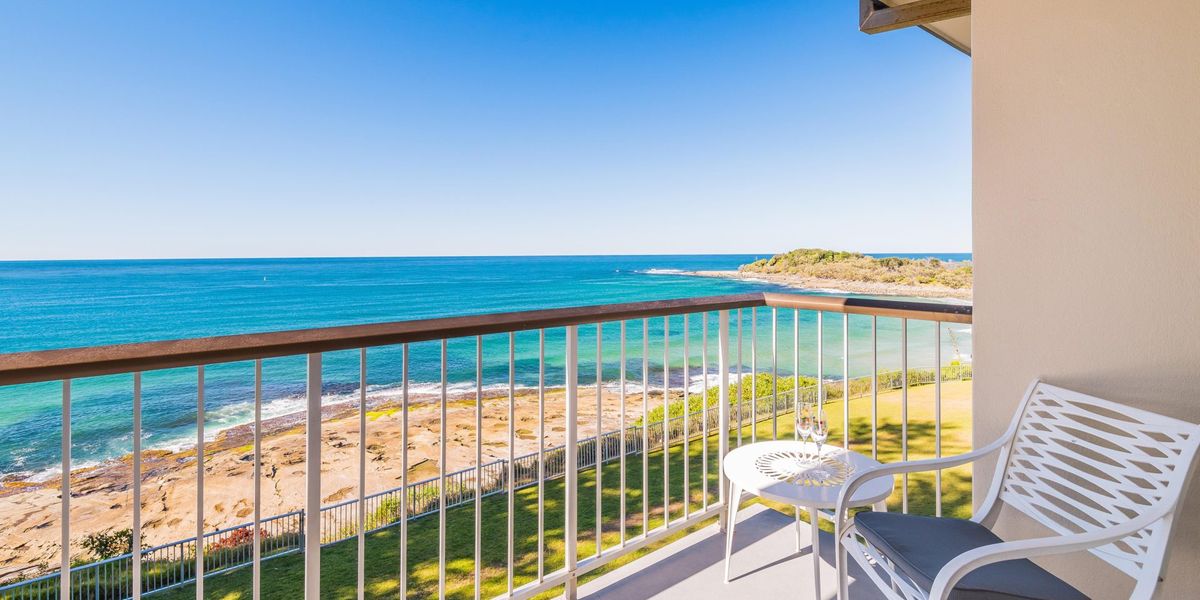 Description
One of the most desireable holiday locations in Yamba. This may be as close as you get can to the ocean without getting wet.
Unit 13 is on the top floor, situated at the northern end of the building with magnificent 270 degree views over Main beach, Convent beach and out to Lovers Point and Pippi beach.
– Accommodates up to 4 guests
– 2 bedroom, 1 bathroom, 1 car
– No Linen, please bring sheets, towels, pillowcases and tea towels
– Ocean views
– NO PETS (this includes visiting pets)
Bedroom 1: Queen bed
Bedroom 2: 2 x single beds
Situated within walking distance of cafes and restaurants, the iconic Pacific Hotel, Yamba Lighthouse and the main business centre.
Suitable for a small family holiday or a couples getaway.
TERMS AND CONDITIONS
Schoolies, bucks or hens groups are not suitable for this property. Strict No Party policy. No pets. Bookings will be cancelled upon breach of these policies. This property is not suitable for persons under 25 years of age without prior approval. Schoolies will not be accepted, please do not ask. Thank you for your understanding.
Amenities
Balcony
Bathroom
Bedrooms
Big Screen TV
Ceiling Fans
Clothes Dryer
Crockery and Cutlery
Dishwasher
Furniture Outdoor
Hairdryer
Iron and Board
Kitchen
Laundry
Lounge
Microwave Oven
Parking
Porch/Deck
Refrigerator
Shower
Stove
Toaster
Views
Washing Machine
Favourite Unit by hassy1111 - Parkes
Our favourite unit. Decor 10 Cleanliness 10 Condition of rooms 10 Fantastic view. Have been many times.
Great spot by corn8888 - Dunwich
Love this unit Decor 10 Cleaning 10 Conditon of rooms 10. Bottle of wine nice touch.
Fantastic by will454545 - Canberra
Decor 10 Cleanliness 10 Condition of rooms 10 Lovely unit with great vies - Cant wait to be back.
Beautiful Vistas by suz11112 - Pakes
Our first visit to Yamba and how lucky we were to stay at Craigmore 13. Recommended by our friends. We loved exploring Yamba and its surrounds But what we loved the best was returnig to our Base with its beautiful water views and fresh welcoming rooms and balcony. Thank you for our wonderful holiday we hope to return asap.
Spectacular View by megan12121 - Manly West
We absolutly love Craigmore 13. The view is spectacular best in yamba and the unit is cosy. Kitchen extremely well equiped nothing better than eating breakfast from the kitchen while watching your children surf at main beach. Decor 9 Ceanliness 9 Conditon of rooms 8.
Special view of the ocean. by peg7676 - Mt Cravett
Great spot. Have loved coming back many times. Very clean apartment with great decor.
Fantastic views and well presented unit. by kay77777 - Mardi
Thank you to the owner and the real estate of this well presented unit. View is spectacular and the sound of the surf is very relaxing.
Best destination by dark99999 - New Zealalnd
We had the best Holiday. We've had in years. The apartment is so well equipped and a comfy home away from home. Spent hours sitting on the balcony admiring the gorgeous view. Decor Cleaning 10 Condition of rooms 10
The very best. by ready88888 - sydney
Best views in Yamba Comfortable unit with all you need for a great holiday - walk to each and restaurants.
Great place and amazing location by David - Scotland
We stayed as a group of 4 people and the flat was excellent. Located on the beach and within minutes walk of Yamba town centre, you could not ask for better. The kitchen was very well equipped and you could not have asked for more. Seeing the dolphins playing in the surf from the balcony was an added bonus. If we're ever back in Aus then we would definitely be back here.
Cosy in winter by Jasmine Francis
Lovely warm and bright flat. Stylish and comfortable with great amenities. Selections of DVDs a nice touch. Great outlook during the day.
by Carol
Positive: Location, had everything needed eg kitchen utensils video heater comfortable furnitureNegative: