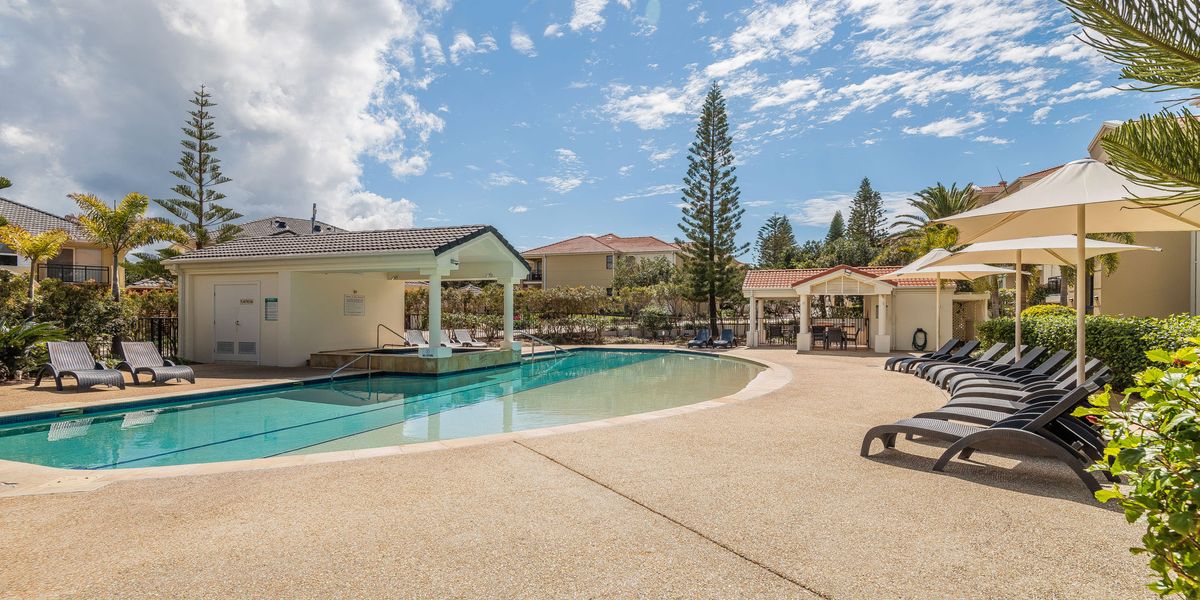 Description
The Sands 28 is situated on the ground floor straight across the road from the beach. Large sliding doors open up to let light and sea breezes through!. Listen to the surf while enjoying dinner – the perfect balcony to sip afternoon drinks.
Within a gated complex, there are large open areas for the children to run around on and plenty of open space for activities to keep them entertained
– Accommodates up to 6 guests
– 3 bedroom, 2 bathroom (spa bath), 1 car
– Linen (Please bring your own beach towels)
– Wifi
– Air-conditioning
– Resort style complex
– BBQ in complex
– Wifi
– Tennis court in complex
– Resort style pool and spa in complex
– NO PETS (this includes visiting pets)
Bedroom 1: King bed
Bedroom 2: Queen bed
Bedroom 3: 2 x single beds
The Sands 28 offers the ideal family holiday on the coast. Within a gated complex, there are large open areas for the children to run around on and plenty of open space for activities to keep them entertained. Walk to Pippi Beach, cafes, shops, pubs, clubs and supermarkets.
Ideal for your next family holiday.
Amenities
Air Conditioning
Balcony
Bath Tub
Bathroom
Bedrooms
Big Screen TV
Ceiling Fans
Child Friendly
Clothes Dryer
Communal Pool
Covered Outdoor Area
Crockery and Cutlery
Dining Room
Dishwasher
Furniture Outdoor
Gas BBQ: Communal
Hairdryer
Iron and Board
Kitchen
Laundry
Linen
Long term renters welcome
Lounge
Microwave Oven
Multiple TVs
Oven
Parking
Refrigerator
Shower
Spa
Stove
Swimming Pool
Toaster
Washing Machine
Fantastic location by jo99999 - Balgowlah Heights, NSW 2093
Comfortable and practical for a family Needs WiFi BBQ area and pool was great. Good value for Money. We will be back.
Great apartment by Helen - North Curl Curl
Absolutely lovely unit. Will visit again. Real estate agents were so friendly and helpful!
Perfect for our stay by lauren11111 - Sydney
A perfect location for a couples getway. Thank you for a clean unit and gorgeous location .We hope to come back one day.
Location just perfect by neil12121 - Brisbane
We love this unit so close to the pool - no stairs well presented in every way. First National great to deal with for after hours pick up of keys. 10 for cleaning 10 for decor.
Love this unit by elek6789 - Inverell
Great unit opposite the beach. Decor 10 Cleaning 10 comfy beds - Air con a plus - Pool in complex fantastic along with BBQ area.
Fantastic Location by angl12323 - Tweed Heads
It was such a pleasure to stay at such a clean property. Everything you need for a good holiday. Real Estate great to deal with. We will be back agian to book this unit.
Stunning Location by chrius12112 - Palm Beach
Great property had the best time Decor 10 Clean 10 location 10 Pool in complex so great and this ground floor unit has everything need.
Great Location by Guest
A lovely clean well maintaaained and confortable apartment in a great location. Great resort facalities.
Best unit ever. by Guest
We had a lovely time in this special unit. So nice to relax in Yamba the pool a bonus.
Sun, sand and relaxation! by Brett
Positive: Great location, loved the pool and spa - so relaxing
Negative:

Absolutely loved it..... perfect spot.... great for a family...... pool bbq area is perfect by Georgina Harris
The perfect place....the waves crashing at night is amazing
by FNYamba
Thanks for your review - Yes we agree great spot to relax. See you Next time.
by Geoff Chambers
Excellent location - short stroll from the beach. Layout is fantastic for a family, with decent size rooms and a private master bedroom and ensuite. Short stroll to beach and a pleasant balcony.
by Liz Ritchie
Amazing location and amenities a wonderful break away!!!
by FNYamba
So glad you enjoyed your stay. Regards Shayne
by Tegan Barton
Excellent location! We have two kids 1&3 was child friendly excellent spot located across the road from beach& pool was fantastic. All three rooms were spacious and clean. Excellent walk to Main Street. Would definitely rebook this property
Great location for families! by Michelle Mullins
We had a great stay at Apartment 28 The Sands Yamba. The direct access to the beach across the road was fantastic, the apartment was very well equipped and spacious, and the pools were perfect for the kids. It was a shame the heating wasn't working in the pool spa, hopefully it will be next time we visit!
by Richard And Lesley Ryburn
Lovarion good just lot of intial issues with first national